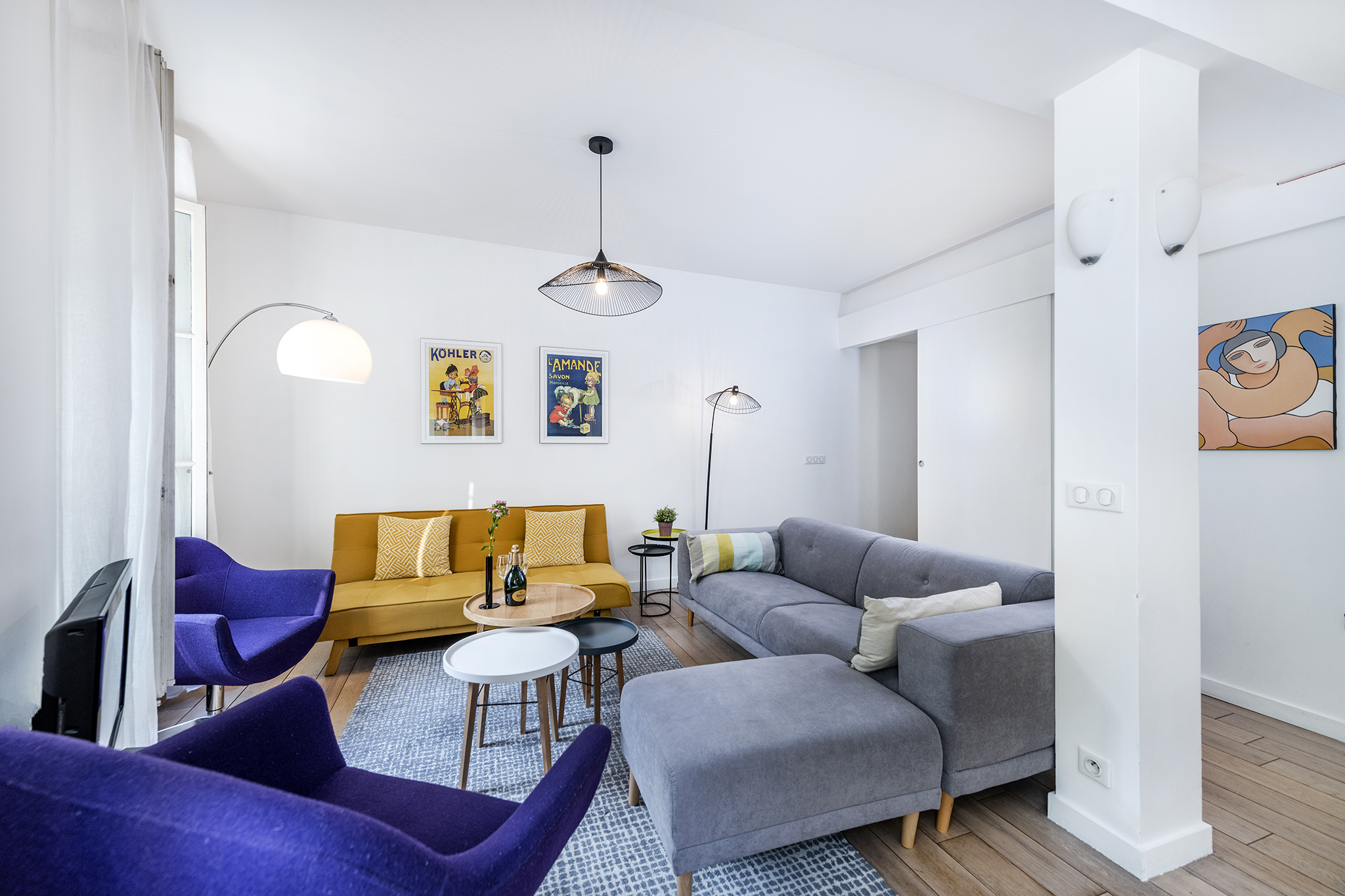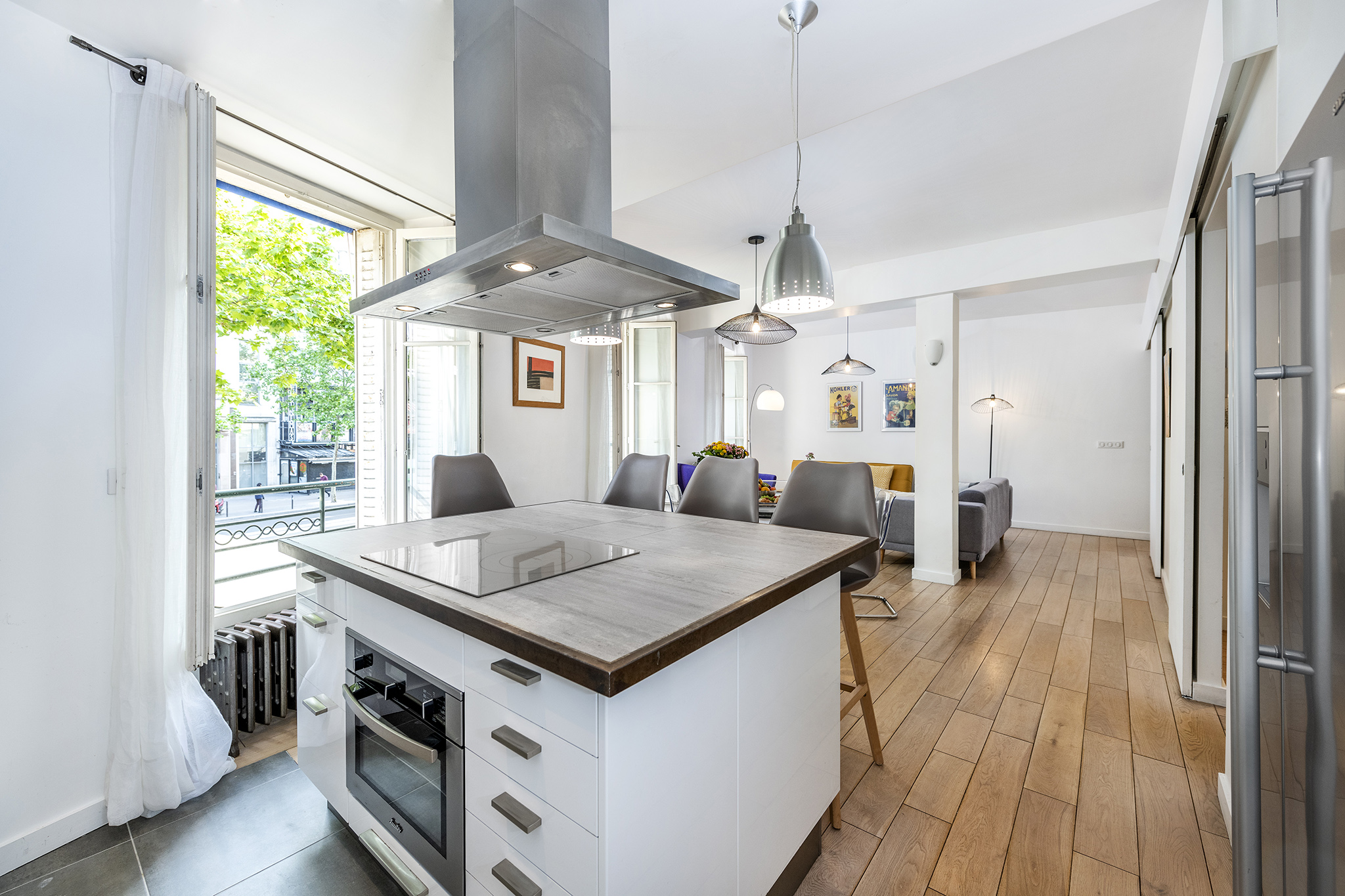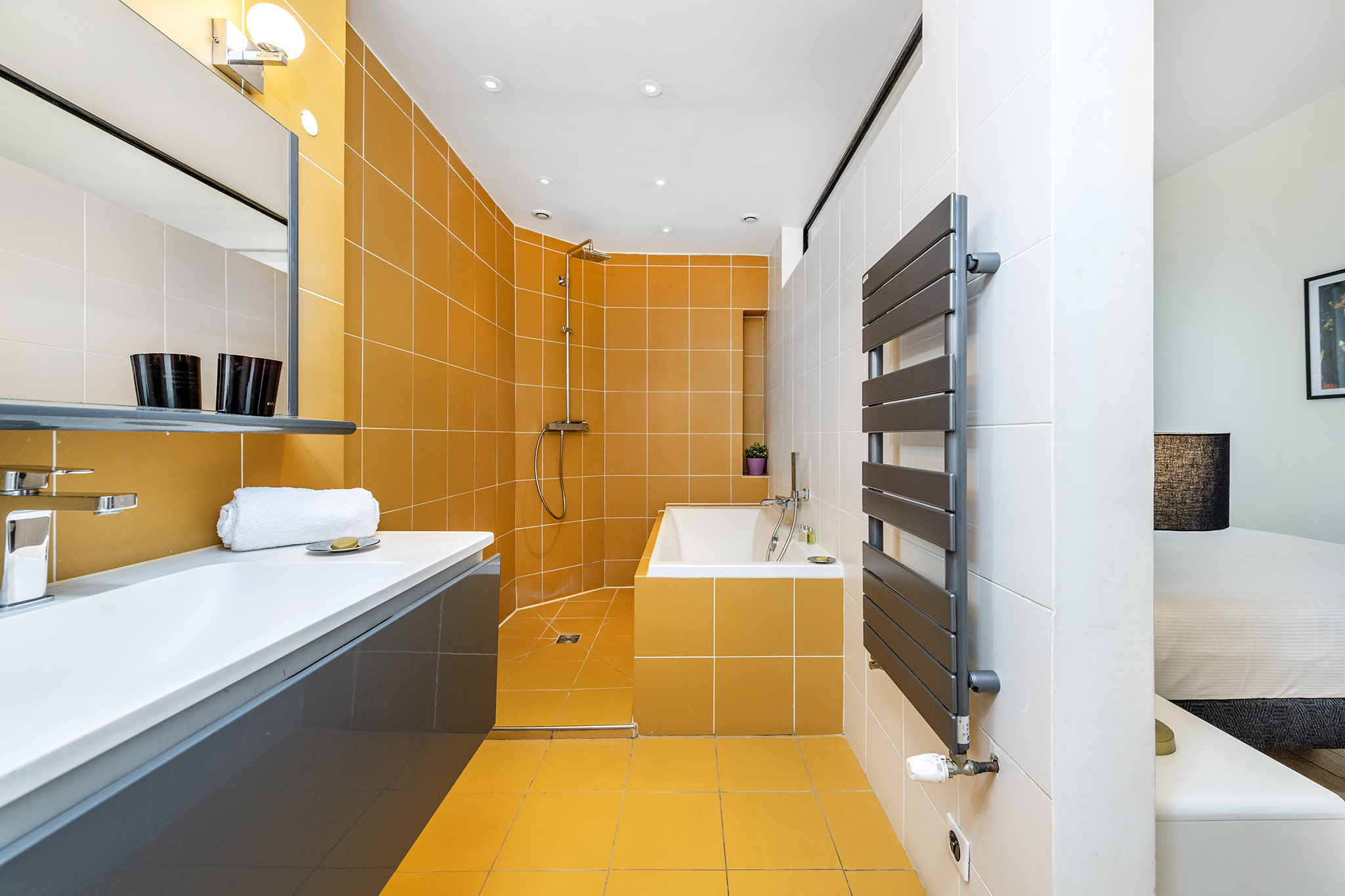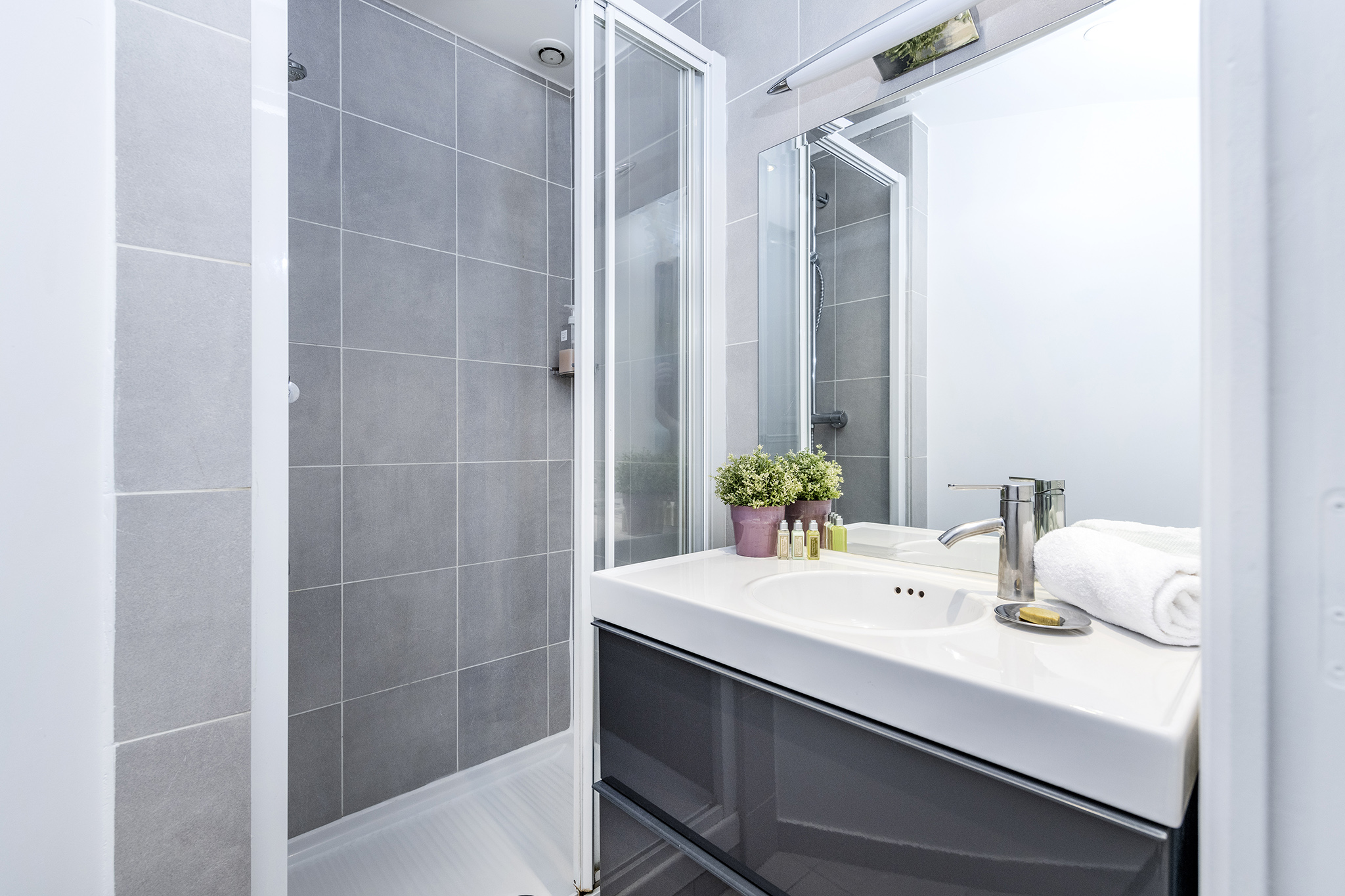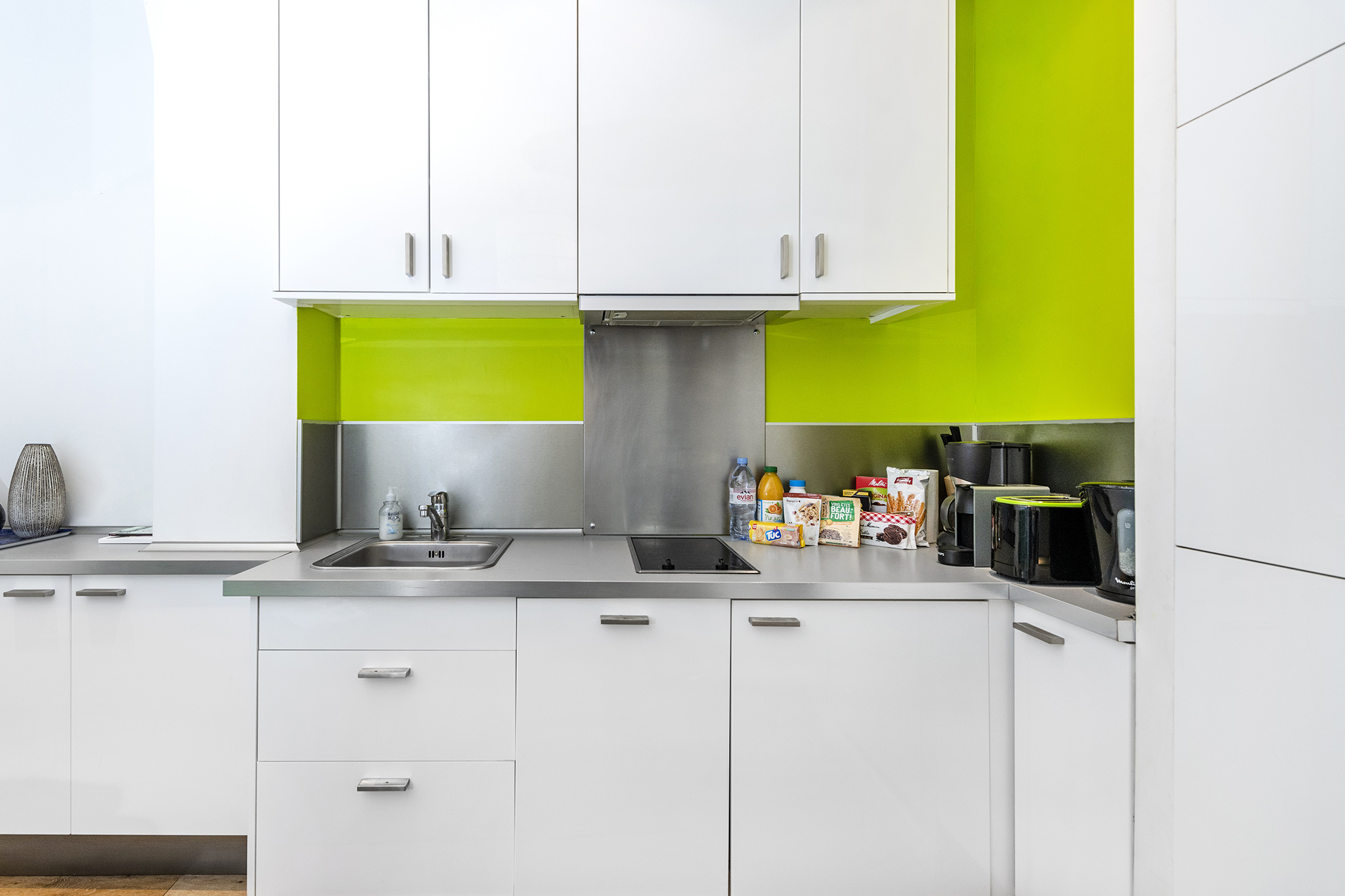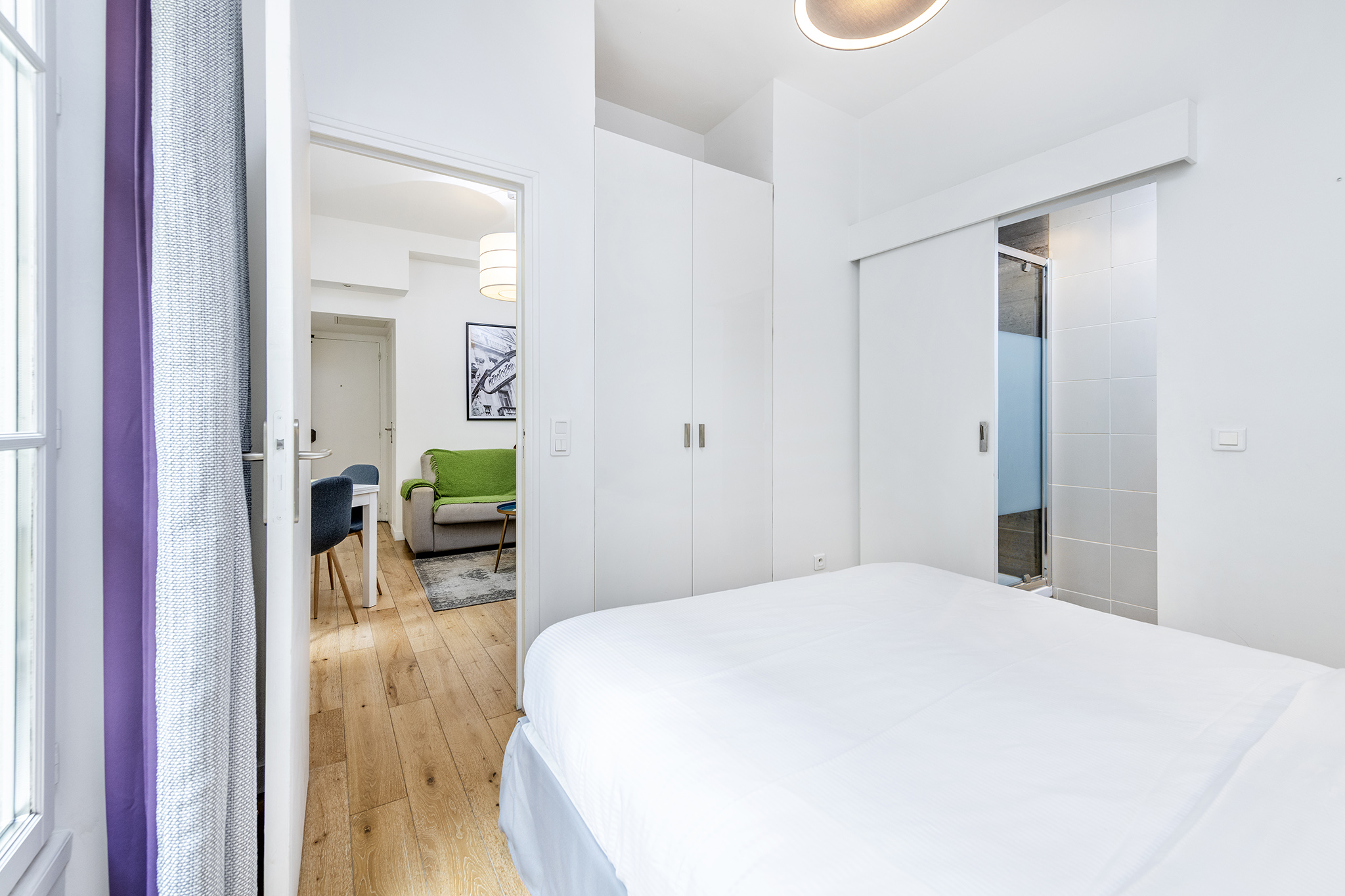 At a
Glance
4

Bedrooms

6

Beds / Sleeps 10


3

Bathrooms

14eme ardt, Paris, France




Metro

- Vavin
View Map
132m

2

or 1421 sq ft

1st floor with elevator
About
This Space
This 2-unit suite combines a spacious 100 m2 3BR/2BA apartment with a smaller (32 m2) 1BR/1BA flat in the same building in desirable Montparnasse, next to famed cafés and bistrots, pedestrian areas, and various specialty shops. Ideal for multi-generation trips, a large family with young adults who value extra privacy, or a traveling group of friends.

The 3-bedroom flat is a bright and cheerful apartment, a perfect Paris home for families, couples, or business travelers. The décor is light, modern and colorful, with natural light pouring through large, double-paned French windows that look out onto the Parisian street life below.

An elevator to the 2nd floor (US) brings guests up to this colorful apartment after a short walk down a flight of stairs, into a bright and open living/dining area. The lounge corner with TV is comfortable for six to eight people, and the casual dining table plus designer kitchen counter can accommodate eight guests when combined. The bedrooms and bathrooms are down the hall, each one facing the building's quiet courtyard.

The master bedroom is the largest of the three, with a king-size bed and full designer en suite bathroom. The other two bedrooms, one with a queen and the other with a double bed, share the second bathroom and a separate WC.

The smaller unit, also called "Retreat", is a cozy and quiet one bedroom apartment that is perfect for a couple, business travelers, and even a small family of 3.

A cheerful living/dining area is efficiently laid out with a dining table that seats four, and a lounge area with a TV and a sofa that can be set up as a double bed. The kitchen is compact but offers the essentials for whipping up light meals with fresh produce from the nearby Raspail open-air market or one of the many nearby shops and boulangeries.

With all windows facing the courtyard, guests will enjoy a quiet night's sleep in the comfortable queen bed. An en suite bathroom with walk-in shower plus a separate WC in the entryway offers multiple guests added privacy.

Just a five-minute walk from the Luxembourg Gardens and right near Montparnasse train station, this suite is located in an authentically Parisian and bustling section of the St Germain/Montpanasse neighborhood. The large open-air market rue Edgar Quinet is a bi-weekly event not to be missed for its colorful displays of fresh food and local specialties!

The apartment suite is surrounded by shops and countless cafés - including the famous La Coupole and Le Select that are right at your doorstep - and the open-air market on the nearby Boulevard Raspail is not to be missed. It is also near famous brasseriy La Closerie des Lilas - renown for its menu and drinks, a favorite to celebrities such as Ernest Hemingway, Paul Cézanne, Pablo Picasso, Jean-Paul Sartre, Émile Zola, and more recently Tim Burton and Johnny Depp!
Coffee maker
Dishwasher
Freezer
Fully equipped kitchen
Kettle
Microwave
Oven
Refrigerator
Stove (electric)
Toaster
Air conditioning
Double Glazed Windows
Elevator
Family Friendly
Fans
Full-length French windows
Hair dryer
Iron & Ironing Board
Linens & Towels
Shopping Cart
Toiletry Kit
Umbrellas
Vacuum
Washer & Dryer (separate units)
Beds
Master Bedroom
1 king
Second Bedroom
1 queen
Third Bedroom
1 double
Master Bedroom 2
1 queen (In 1 BR unit)
Living Room
(open sleeping area) 1 Single Sofa Bed
Living Room 2
(open sleeping area) 1 Single Sofa Bed (In 1 BR unit)
Bathrooms
Guest Toilet
(Half bath) toilet, sink
Guest Toilet 2
(Half bath) toilet (In 1 BR unit)
Master Bathroom
(En suite full bath) walk-in shower, toilet, sink, tub, rainshower, hand held shower head, towel warmer
Master Bathroom 2
(En suite half bath) walk-in shower, sink (In 1 BR unit)
Second Bathroom
(Full bath) walk-in shower, sink
Haven In
Adores
The benefit to accommodate a larger group without compromising privacy
The central location near famous brasseries La Coupole and La Closerie des Lilas
The mobile AC in bedrooms for those hot summer nights
Great Montparnasse location for shopping and immersing in buzzing Parisian life
The open-air market rue Edgar Quinet with colorful displays of fresh food and local specialties
Of
Note
The elevator is small and can accommodate up to two people at a time giving access to the 3BR unit.
The 1-BR unit is on the first floor with no elevator
Rates
- Nightly Rate based on weekly stays. Please inquire for special long and short stay rates.
- Monthly rates based on 28 days for rentals of one month. Longer rentals follow the calendar month.
- Price based on standard occupancy. Larger groups please inquire. Additional fees may apply.
Inquire about specials
Currency Converter
Why
Haven In
Unique boutique rentals. Timeless elegance and charm with full amenities and service.
Handpicked
Each vacation and corporate apartment and villa rental selected for the finest level of quality, comfort and privacy.
Service
On your own but never alone: personal welcome, 24/7 availability.
Comfort
Quality linens and towels, welcome package, and luxe amenities.
Authenticity
Real vacation and corporate homes in local neighborhoods.
What's
Nearby
Boulangeries, pâtisseries, and fromageries
Daily Food & Produce Markets
Food and Produce Markets
Gardens
Jardin du Luxembourg
Latin Quarter
Luxembourg Garden
Organic market
Restaurants
Saint-Germain-des-Prés
Sorbonne
Theatres/Cinemas